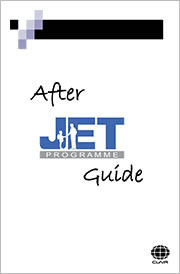 The After JET Guide provides JET participants who are completing their appointment on the JET Programme with useful information and advice for preparing to leave Japan, as well as information about finding a job and pursuing higher education.
>> After JET Guide 
>> Important Notice about the After JET Guide 
Please refer to the following document for current information on the Lump-sum Withdrawal Payment (pension refund).
>> Lump-sum Withdrawal Payment 
*CLAIR forbids the unauthorised reproduction (copying, uploading, displaying, etc.) of any of the contents displayed on this website for commercial purposes. In addition, CLAIR requests that you refrain from any unauthorised use of the contents on this website outside the scope designated by copyright law.
Other Publications