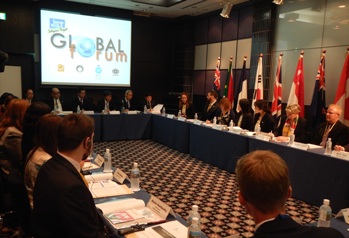 In preparation for the celebration of the JET Programme 30th Anniversary in 2016, 12 JET Programme alumni from around the world returned to Japan in Monday, 9 November, 2015 – Friday, 13 November, 2015 to participant in the JET Programme Alumni Satogaeri Project.
A "JET Alumni Global Forum," co-hosted by CLAIR, the Ministry of Internal Affairs and Communications, the Ministry of Foreign Affairs, and the Ministry of Education, Sports, Science, and Technology, was held concurrently with the project.
At the forum, the 12 Satogaeri participants, representatives of the JET Alumni Association (JETAA) chapters of Japan, and representatives of the Association for Japan Exchange and Teaching (AJET) gathered to have a lively discussion regarding initiatives for the 30th Anniversary, the Tokyo Olympic and Paralympic Games, and the Rugby World Cup.
Afterwards, the 12 Satogaeri participants returned to their former places of employment in Japan to reunite with old friends and coworkers, strengthen their ties with the community, and promote the charms of Japan's local regions to the world.
You can see more of the Satogaeri Project at the following SNS channels:
Facebook (https://www.facebook.com/JETsatogaeri/)
・ Twitter (@JET_Satogaeri)
・ Instagram (jet_satogaeri)

Here is a list of the Satogaeri participants and their former places of employment on the JET Programme.
| Former JET Placement | Name | Gender | Country |
| --- | --- | --- | --- |
| Hokkaido Prefecture | Michael Kirch | M | South Africa |
| Oirase Town, Rokunohe Town, Aomori Prefecture | Felicia Lee | F | Singapore |
| Kashiwazaki City, Niigata Prefecture | Fiona Uyema | F | Ireland |
| Ota City, Gunma Prefecture | Sarah Parsons | F | UK |
| Matsukawa Town, Nagano Prefecture | Leah Bramhill | F | Australia |
| Yuasa Town, Wakayama Prefecture | Caroline Pope | F | New Zealand |
| Okayama Prefecture | Alexis Svetlovsky | M | Canada |
| Yonago City, Tottori Prefecture | Hanhong Zhao | F | China |
| Shimane Prefecture | Eunyoung Lee | F | South Korea |
| Kagawa Prefecture | Sophie Le Berre | F | France |
| Aso City, Kumamoto Prefecture | Mark Frey | M | USA |
| Miyakonojo City, Miyazaki Prefecture | Alexander Peterson | M | USA |