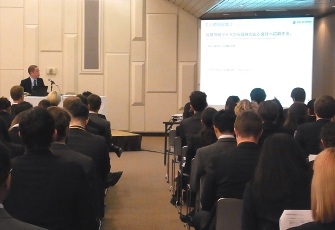 On 11 February, 2016, the first JET Programme Career Fair of the year was held at the Fukuoka Fashion Building in Fukuoka City.
75 JET Participants and 19 companies and organisations, many from the Kyushu Region, were in attendance. In addition to the briefing sessions and interviews held by the companies present, participants also partook in seminars on job-hunting in Japan and made use of mock-interview and consultation services from professionals and JET alumni.
CLAIR plans to host two more JET Programme Career Fairs, one in the Greater Tokyo region on 4 March and another in Osaka on 25 April. Registration for companies interested in hiring JET participants and JET alumni at the Osaka career fair may inquire with the administrative office about obtaining a booth until 7 March, 2016 (registration for JET Programme participants has been closed due to limited space).