On Friday 10 November, the climax of the 2017 JET Furusato Vision Project came to a close with the B Group participants reporting on their activities at CLAIR's Tokyo Headquarters. All 8 of this year's participants returned to their former contracting organisations and engaged in various activities related to tourism promotion, economic exchange, educational exchange, and cultural exchange, thus further expanding the potential of the JET Programme as a tool for globalisation in Japan. You can catch a glimpse of the participants activities while they stayed in Japan on the project's official SNS channels. Many of the participants will continue their projects after they return to their home countries, in order to deepen ties with their furusato and advance their careers. So follow us on twitter and instagram for more information! Next year, participants from Eastern Japan can apply, so start getting excited!
About the Furusato Vision Project
≪What is the Furusato Vision Project?≫
Announcing the JET Furusato Vision Project 2017! After completing their terms on the JET Programme, 8 participants will use the skills they've gained in their various fields of work to direct projects at their "Home away from Home" in Japan! The projects use each participant's professional expertise to promote tourism, economic relations, education, and diversity on the local level in Japan.
The Furusato Vision Project was planned by CLAIR, and after careful consideration, 8 JET Alumni were selected from applicants around the world. CLAIR continues to support the 8 participants during the project by communicating with contracting organisations to plan and ensure the success of each participant. This year's project focuses on Western Japan, while Eastern Japan is planned for next year.
We at CLAIR are excited to see JET Alumni continue to contribute to globalization after JET, and create new possibilities for contracting organisations to continue their relations with JET Alumni.
Furusato Vision Project 2017 is divided into two arrival groups, over 8 areas of Western Japan.
Arrival Group A: 26 October – 31 October (Prefectures: Shimane, Ehime, Oita)
Arrival Group B: 6 November – 11 November (Prefectures: Kyoto, Tokushima, Kitakyushu City, Kumamoto, Miyazaki)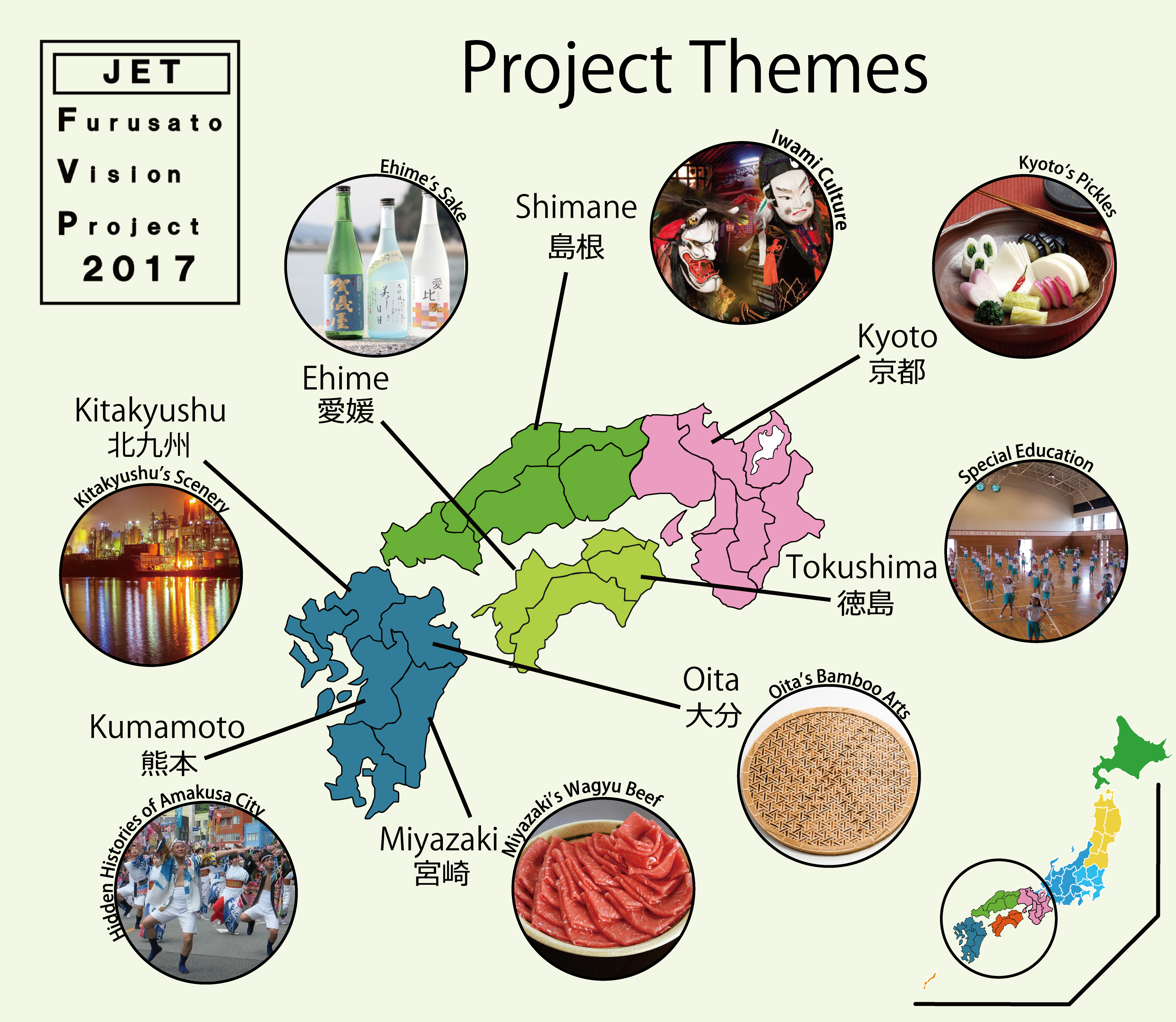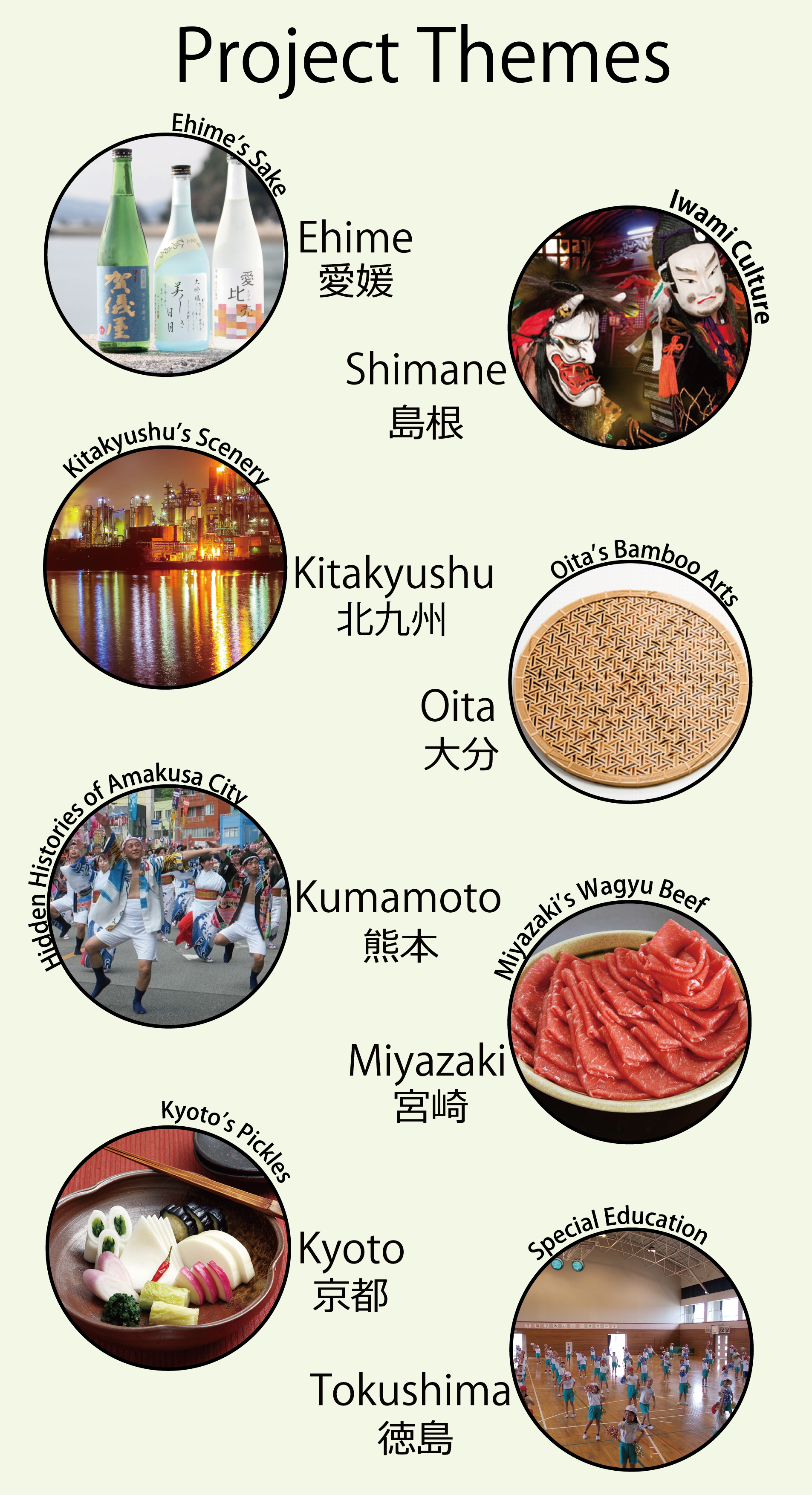 A reception and presentation on the results of projects will be held at the CLAIR office in Tokyo at the following times and addresses.
Group A: 30 October (Monday) 4:30pm – 5:50pm
Group B: 10 November (Friday) 3:45pm – 5:50pm
Address: Sogo Hanzomon Building First Floor, Kojimachi 1-7, Chiyoda-ku, Tokyo
Those interested in attendance should contact CLAIR's main office.
Arrival Group
Project Term
Location
Details
A
27 October (Friday) –
29 October (Sunday)
Shimane Prefecture
A JET Alumini who is working at a hotel in Kobe City returns to their beloved Shimane Prefecture to showcase Iwami Culture by holding a Kagura dance and pottery event aimed towards the international community. Afterwards a forum will be held where students and local government can talk about promoting Shimane Prefecture Tourism.
A
27 October (Friday) –
29 October (Sunday)
Ehime Prefecture
Promoting Ehime's famous sake to Canada's Quebec! This project will cover sales, import, and branding of Ehime sake while meeting with famous local sake makers.
A
27 October (Friday) –
29 October (Sunday)
Oita Prefecture
A JET alumnus and art history professor returns to Oita Prefecture to speak with famous bamboo artists of Oita with the hopes of featuring Oita's bamboo art at his university in America.
B
7 November (Tuesday) –
9 November (Thursday)
Kyoto Prefecture
After being placed in Kyoto this JET alumnus decided to promote Kyoto's famous pickling industry in his home country. Now he is going to visit traditional Kyoto pickling masters and share their experience with the world via SNS and an event in the US.
B
7 November (Tuesday) –
9 November (Thursday)
Tokushima Prefecture
This JET alumna found her passion for special education during her time on JET and went on to specialise in special education on their return to their home country. Now she's going to give back to the school where it all started and share her expertise in the field.
B
6 November (Monday) –
10 November (Friday)
KitaKyushu City
A professional photographer from Australia returns to their placement to use his knowledge to promote the beautiful and unique scenery of Kitakyushu City!
B
7 November (Tuesday) –
9 November (Thursday)
Kumamoto Prefecture
A JET alumnus and community art director is organizing a photo exhibition to document the shifting cityscapes of his home in America and home-away-from-home in Amakusa, Kumamoto. His project will culminate with an art exhibit in the US.
B
7 November (Tuesday) –
9 November (Thursday)
Miyazaki Prefecture
After finishing their JET Programme term this alumna now works for the Mongolian branch of a Japanese local television network. For this project she will work with her home country's TV station to promote Miyazaki's famous beef to audiences in Mongolia.
≪Follow the 8 participants' adventures on≫