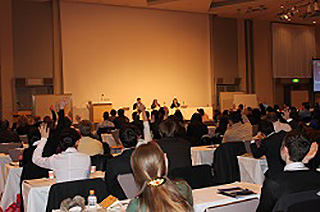 The After JET Conference (AJC) is typically held each year in February or March. By providing information about finding employment after JET to all participants who are concerned about their post-JET careers, CLAIR aims to enrich the lives of JET Programme participants after they leave the JET Programme. In addition to information about job-hunting in JET Programme participants' home countries and in Japan, seminar topics also cover pursuing further education, in addition to industries such as translation and interpretation, travel and tourism, and education.
Participants can also attend a personal consultation with professionals working in a wide range of career fields both in Japan and abroad (advance registration required).
Some of the presentation materials from the latest conferences will be posted to this page for those JET Programme participants who cannot attend AJC (see below).
Unlike other conferences, attendance at AJC is optional. There is no fee to attend the conference, but any expenses must be borne by the JET Programme participant. JET Programme participants must also first confirm that the conference does not interfere with their work duties and obtain permission from their contracting organisation supervisor before registering to attend. In general, attendance is limited to participants who are leaving the JET Programme (participants who have not requested reappointment) and former JET Programme participants.
*The 2023 After JET Conference will be held online.
About the 2023 After JET Conference
The 2023 After JET Conference is aimed at JET Programme participants completing their term of appointment on the Programme in 2023 as well as former JET Programme participants. The Conference is being held over the weekend of 18-19 February.
During the Conference, participants will have the opportunity to learn about a variety of career fields and the current job market from JET alumni working both overseas and in Japan. Networking sessions with speakers and current/former JET Programme participants will also be available throughout both days of the Conference. In addition, there will be a limited number of individual career advice consultations with business professionals during the conference.

Please note that the After JET Conference and the career fairs are two separate events. To learn more about the career fairs, please go to this page.
Previous Handouts
→ Handouts and Presentations from the 2022 After JET Conference
→ Handouts and Presentations from the 2021 After JET Conference
→ Handouts and Presentations from the 2020 After JET Conference
→ Handouts and Presentations from the 2019 After JET Conference
→ Handouts and Presentations from the 2018 After JET Conference
→ Handouts and Presentations from the 2017 After JET Conference
→ Handouts and Presentations from the 2016 After JET Conference
→ Handouts and Presentations from past After JET Conferences
Frequently Asked Questions
Please click below to see frequently asked questions regarding CLAIR's career support initiatives for JET Programme participants.
Frequently Asked Questions
Other Conferences